Today I went to my other sewing guild group, and I got so much done. Thanks to
Alison
, who brought a spare sewing machine for me to use. I found out from shifting boxes of fabric that I still can't lift that much weight around yet. (Silly gallbladder, you no longer exist so why did you hurt so much). I knew it would be worth going simply cos I couldn't simply quit once I got fed up with a tedious task. And I knew there were tedious tasks to come! Seeing as
Supanova
is in Sydney in 5 weeks, well I just need to keep working on this and Catelyn once I have the fabric.
I'd stitched each skirt into a giant tube, but I needed to hem, gather & attach their waistbands. I decided to not have both on 1 waistband, which maybe now I wonder if it'd be a good idea to reduce bulk. Though this way I can wear one on it's own if it's too hot. The lighter weight underskirt has 2.7m of fabric around, and the plaid is about 3.1m. I haven't done the snaps for the waist, and I think they're to bulky to buttonhole. Here they are hanging on my shower rail.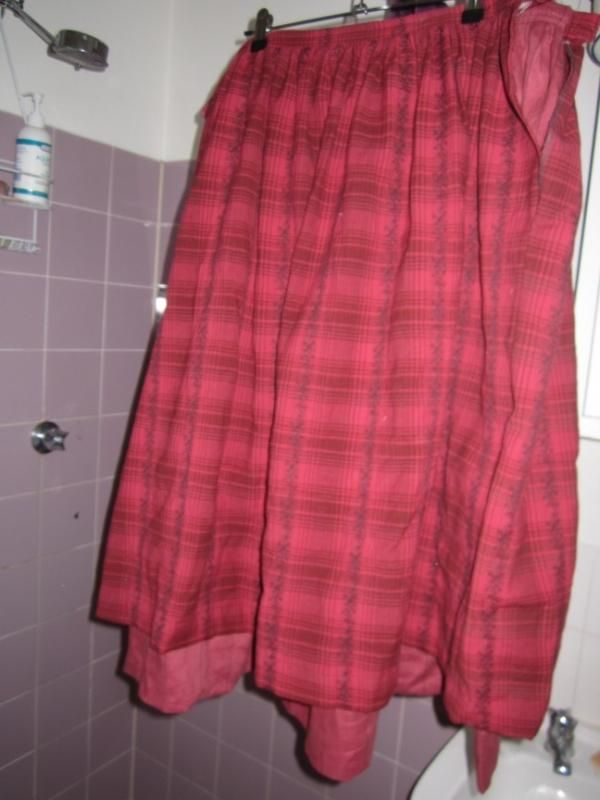 I also got the apron 90% done, I've just got the press the tie belts, and hand stitch the waistband fully closed. No pics yet, cos to be honest it would be tediously dull as it is.
Oh and the green linen I'm using for this apron, I won't be getting more of the same to overdye for Catelyn. It's fraytastic and has a woven rib in it, which won't be great on all those panel seams.
I also got some green trim to apply to the bodice, which is just what I was after. For only $1 a metre, and it's cotton. I'll preshrink it tonight so that when I need it it's ready.
Next up I'll mock up the bodice so that I can get help fitting it next Saturday at my usual sewing group.