I meant to post this during the week but was too busy sleeping!
I was able to not buy fabric yesterday (put some delicious green linen back on the shelf that would have been great for the hobbit apron, but not at $38m) because not only did I stock up when in brisbane only 2 weeks earlier, but I'd also shopped online and it arrived early this week. Although I'll try to wriggle on the fabric diet hook and say that at least I discarded half the fabrics I wanted to buy (both IRL and online shops).
I got the end of roll grey cotton voile with black tufts & white stripes. Just noticed it's a cross weave of white and black It'll be an ideal early 1800s gown to go under my half made open robe. The cotton shirting on the right is for a work blouse/shirt. I photographed it sideways by mistake and though I might prefer this to the proper direction I remember the only time I cut a blouse on the other grain cos I preferred it, it was just that bit tighter a grain and that shirt was never quite comfortable. So much so that I gave it away rather than keep wearing it.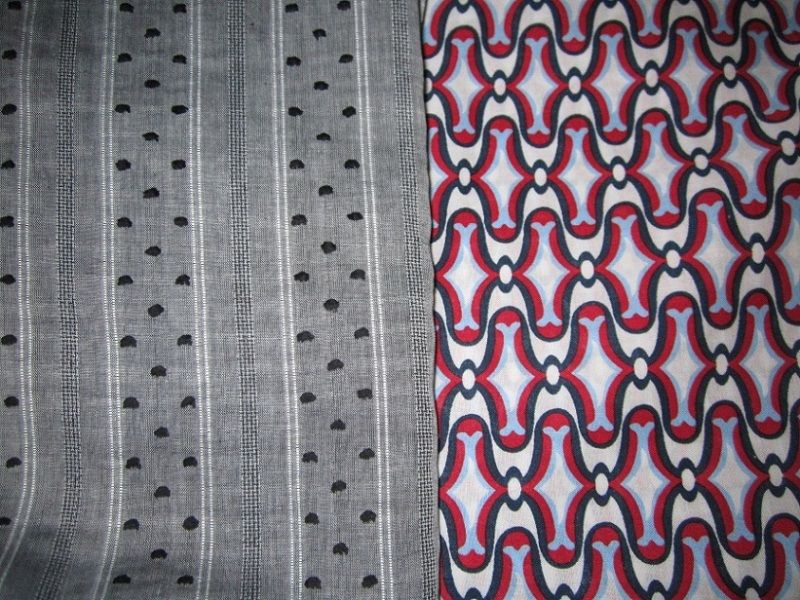 I'm thinking that I need to use the shirting this summer. If only I could find my half cut out blue herringbone linen/rayon. I also want to dye some of the other linen/rayon to use this summer, maybe a berry red?