I really wanted a regency open robe, and didn't want to have exactly what was in Janet Arnold's patterns of Fashion, so fortunately I had a memory of something in
Costume in Detail (Nancy Bradfield) which a friend brought with her for a visit earlier in April.

Inspired by the 1790s open robe we mocked up a pattern based on my Period Impressions robe anglaise.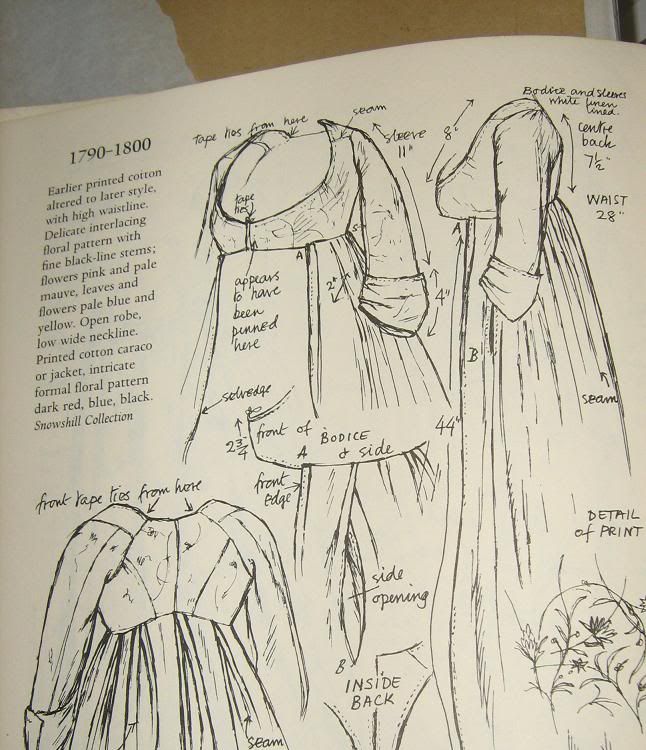 I had the indienne print cotton that I bought late last year in two pieces. I'm amazed that I've used almost all of it. The skirt was pleated for all but 2" of the 2.5m length I bought to make sure that I had enough. It's attached with the selvedge running along the waist ... we decided (ie my roomies at JAFA) that the indienne print was busy & rotational enough for it not be be obvious that the bodice was cut in one grain and the skirt the other. El Presidente pinned up the hem as the back waistline was intentionally raised at centre back, and the hem was just basted flat. At some point that will be turned into a small rolled hem. A period finish & all there's room for at the centre back. I need to finish sewing all the hooks & eyes on the bodice centre front ... I only got 2 sewn before I had to wear it!

El Presidente also helped me get the sleevil defeated far to easily. She is a maestro of technique! I spent Saturday hand sewing the sleeve hem, prick stitching the front edges together and pinning the skirt into place - I eyeballed the pleats & pinned them into place, being very thankful that by the time I got to the other side I had a teency bit of fabric left over and wasn't a teency bit short of fabric.

I have about 60cm left to make the winged cuffs, plenty and they shall be done this year.