Around 4 years ago, Spotlight had a cotton poplin with a small repeating print (black lines on white) that I and a few other costumers grabbed in excitement. It told me it wanted to be a regency dress - small repeating motif - but I didn't quite have anything else in mind. A couple of weeks before Steamfest I had the flash of inspiration to make a bib-front regency gown using the c1798-1805 morning dress pattern in Janet Arnold's
Patterns of Fashion 1
. Because I'd already mocked up & used the pattern I knew I could make it quickly. My discovery of Trevithick's horseless steam carriage of 1803 - that he drove 70 miles to the coast to ship to London - made it clear that for me at least, steampunk could be earlier than Victoria's reign. I raised the back neckline of the bodice 1" as my stays aren't completely covered, oopsie, and they're already made. I made this in 1 crazy evening, from cutting out to done by 2.30am. I really love it and felt so comfortable wearing it. Here's the back of the gown - which I pleated instead of gathering & pleating.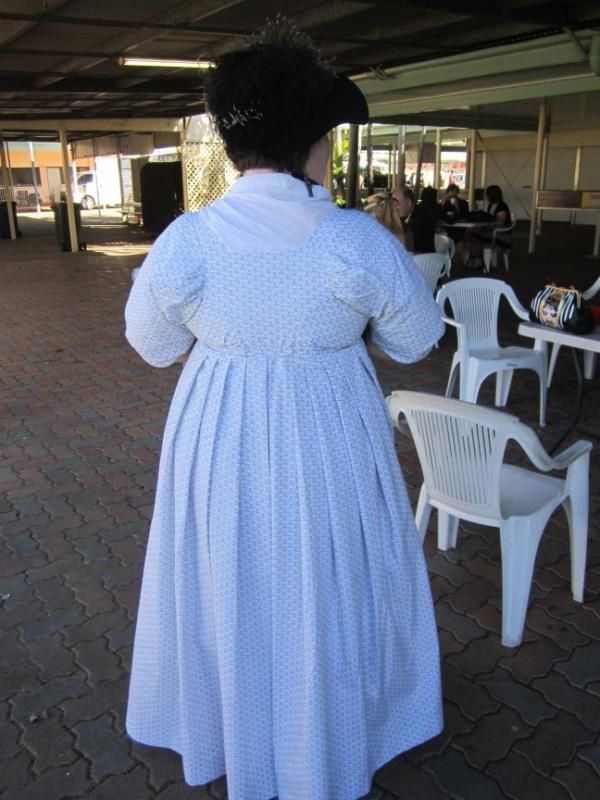 And the front - I used 2 black brooches instead of buttons or pinning it.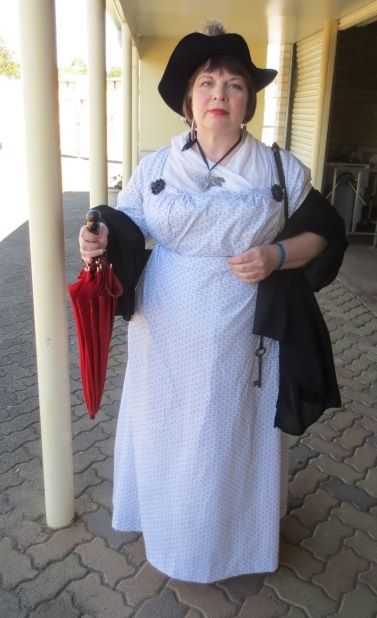 So what makes this my Easter Egg Challenge .... the print that only a couple of people noticed when I first wore the dress.