I'm still being a bit of a neat freak, so it's a quick & dirty corset for someone with a perfectionist streak.
When I mocked this up & tried it on way back at the end of July, I completely forgot to mark the waistline on it, and it's not marked on the pattern. So, yes I didn't include a waist stay on this corset. If it only survives a couple of outings that's ok ... as I'm happy to make this corset pattern again.
It's a single strength layer, with the brocade flat-lined to the coutil. I pin basted it, and am patting myself on the back as it's worked so well. I also graded the seams coutil only, and pressed them to the sides. I used 1: cotton tape for the boning channels and stitched all seams from top to bottom ... read somewhere to do this with boning channels so just did it for everything so I wouldn't forget.
I cut the brocade one piece at a time, flipping the cut piece & matching the brocade pattern & cutting the other side to exactly match. Ugh. because the pattern isn't cut all on straight grain the brocade is cut on the same grain as the coutil.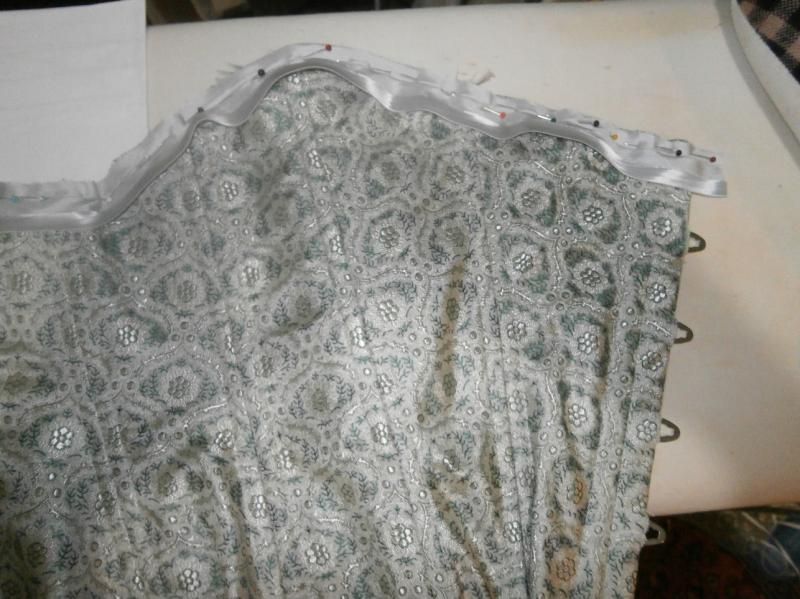 The only things left to do is stitch down the grey satin binding & set the grommets. Oh, must make a modesty panel for the back. aaargh.
Double argh, need to make a narrow scarf in the silk satin I have. It may be more of a tube so that I don't have to hand sew rolled hems ... have I mentioned my loathing for hand sewing