I'm writing this as much to because I don't want to give the impression that things always go well - no matter how many years you've been sewing (38 for me) and how extensively it's not always a winning scenario. I once self drafted a kimono dressing gown using the 90cm width of my silk/cotton jacquard fabric as my starting point & a memory of my grandmothers 1920s/30s actual kimono dressing gown.
I'm not feeling as happy now as I did when I swanned around in that - when it was new and when it was near the end of it's life.
Last night I did laundry & some sewing - yayy for getting back into it. Though it's a tad demoralising that the first thing I sew has been ballsed up enough that I may not like it once it's done. Here's my fix on the bodice ... you may or may not think it's hideous, but I do :(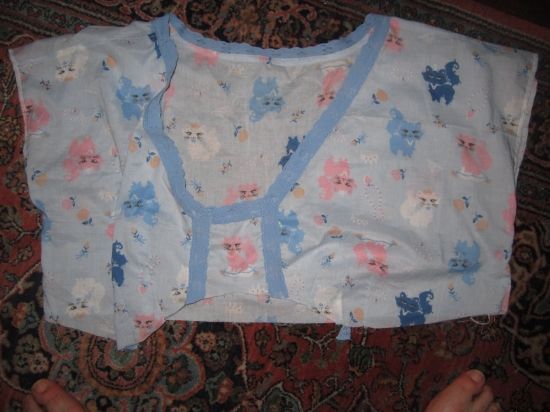 I've not yet hemmed the arm opening, but I don't think that's going to magically change my mind. It could be that once the skirt is attached and the waist sewn/elasticated that I might change my mind a little. But at this rate the new pink fabric isn't being turned into this nightmare. (
So far the skirt section is seamed, with the hem overlocked & ready to have the lace stitched onto the hem.
And hmm, having slept on it, the horror that's the fugly front may be improved by my removing the 2 vertical bits of lace. That'll de-clunk it some. I thought the lace would disguise the seam, but it's just advertising "hey, ugly fix! Come & look at it!!!"