Okely dokely as Ned Flanders would say.
I'm trying to get my stash down to a specific number or less by the 31st of December this year, and my various ridiculous health problems have really impacted on my ability to do this. Mind you it was the Evol Gallbladder that made me realise the stash had expanded past my ability for coping if I wasn't well. Hence my decision to start reducing the stash each year til I get back to my old 'normal' of approx 400m. Which is still a large amount, but not so much for someone who costumes as well as makes 98% of their clothing.
In between actual sewing & giving fabric away, that's downsized 95m this year, however I've also bought 53m - a large chunk of which has been sewn already. 3 pieces still in the stash are long lengths for costumes (for example the 6m of black voile for my regency 1799 round gown).
So why am I mentioning this, well today I got a 2m piece of cotton to make another nightgown.
I've not given up on the kittens - I like the fabric and despite complaining I like the challenge of the puzzle (where puzzle = finding an effective solution). But I also want to see how I can adapt it to something slightly different. After the PR tea some of us went to My Hung in Church St and I've eyed this fabric of for quite some time - it's cotton and I might not be able to wear it as street wear, but as a nightgown it's fine. In fact it's pre-washing right now to get rid of sizing, which I noticed as it foamed when I preshrank it.
So instead of being ahead, because of my weakness for fibre I've still got a target of 36m to sew in the next 8 weeks. My Dr Who costume is 5m, the Decades of style negligee in the rest of the kitten print, and the existing kitten nightie is another 5m, today's buy is 2m, so there's a third of it down comparatively quickly. I'm also going to mock up the 1970s wrap dress pattern using some monkey print knit (another 3m down!) and if that works use stashed rayon/cotton print knit for a work dress, another 3.7m.
The splodgey print cotton is another summer dress near the top of my list, 4m. So already I'm up to 22m in 7 garments. Leaving 14m. hmmmm, I've 2 aprons to make (down to 12m) and another vintage dress which'll use 4m (8m balance). oooh and at least 2m mocking up bodices for the splodge and the other vintage dress pattern.
So per-maybe-haps I stand a fighting chance now that my knee is back in use for stairs & sewing (among other useful knee purposes requiring bending).
My knee has gone from this odd little (11mm diameter by 10mm deep) tumour
To this the day after surgery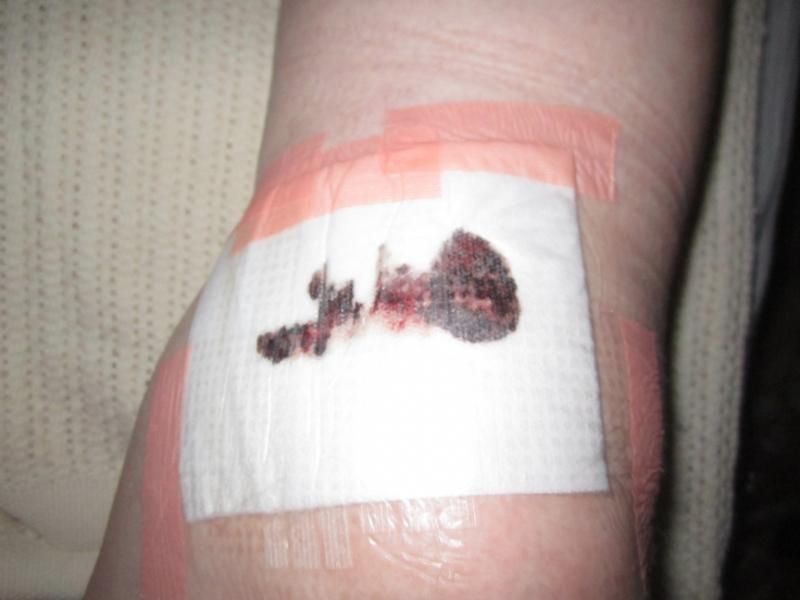 To this 10 weeks after surgery, and the day physio & stretches began.
I'm looking forward to showing some real live finished items over the coming spring & summer (typically my more productive stitching time of year)