I got my false rump stuffed & finished off, and the measurements over it from waist to floor at centre back, side and centre front. My 2 pieces of stash white self stripe linen are perfect. The 2.5m is long enough for the front & back - I don't need a deep hem as there's going to be a 10" or 25cm ruffle at the hem. The 1.5m is ideal to cut the ruffles with around half a metre left over for something. Maybe line the bodice of a regency dress or spencer.
I'm creating the linen under petticoat to use as a proper petticoat aka skirt for 1780s dresses. So it's not a quick n dirty version that I'm making.
This screencap doesn't show clearly that the top layer is voile or sheerish, but it is. It's got a ruffle too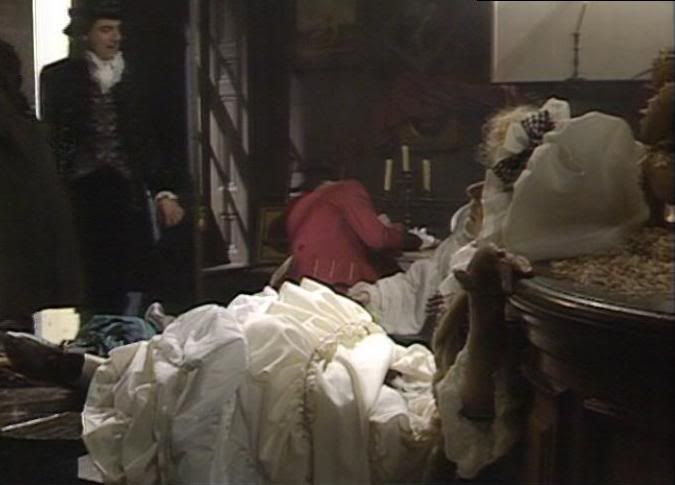 I thread pulled the linen to make sure both lengths were straight and even. The side seams are pinned and ready to machine. I'd have cut out the voile top skirt except that I forgot to take the right fabric with me. I'd picked up another piece of white fabric that was near the voile.
I'm going to have to buy lace for the sleeves online, as my local Spottie had nothing, and I'm sure Lincraft didn't either. I didn't actually go to lincraft, but I should just suck it in & buy it through eBay seeing as there's more available in the type of lace I'm looking for
I also got a good approximation of the size I need for the cap, and need to remember to make it oval as it's much longer at the sides than front & back.