I met up with a friend at My Hung Fabrics in Hurstville on Sunday morning for fabric then coffee. I was there hoping for lightweight white woven interfacing (yay, got 1 metre) and a couple of dress lengths of cotton or rayon lycra knits for casual summer dresses.
Backstory: I got a couple of dresses in the Boxing Day sale marked down from $89 to $10 and $15 and they're so handy that I need to replace them soon. I'll use view B of Simplicity 1804, but above the ankle.
Back to the March dress and yes this will also sound like a detour. I'd forgotten to take the mermaid fabric with me to get a fabric for the collar/s, and saw a grey/black microdot cotton that I thought would be right. In hindsight the other microdot colour-way was my first gut choice and might have been a better one. I suspect that I overthought it and in natural light the one I grabbed doesn't blend with the mermaids. It's not so bad at night with a flash.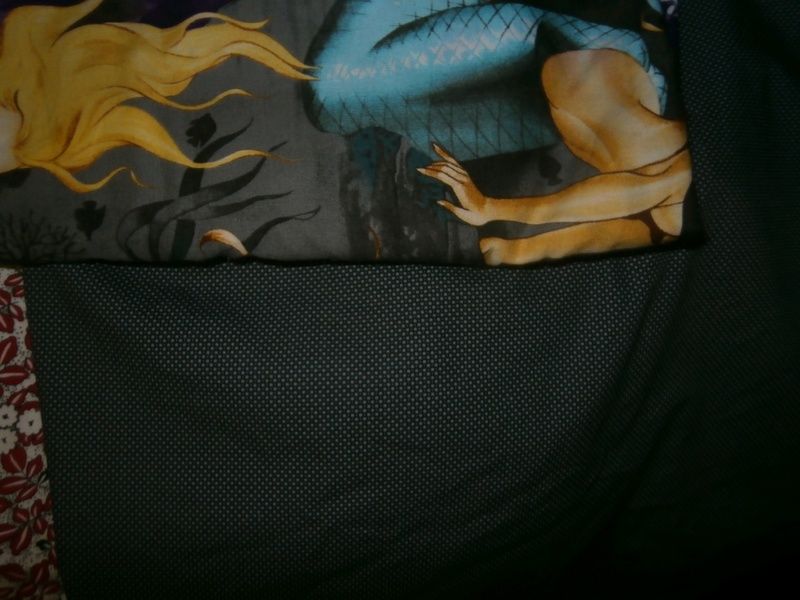 However I tossed it onto my armchair, which also had the March dress bodice and my brain woke up and said "HUH, that's much better suited for my colouring than the solid black
and
it draws out the speckled background". So, it's already preshrunk and tonight I can cut out the replacement speckled collar and interfacing.
However it makes me rethink my button choice cos the solid black buttons went with the solid black reveres. hmmmm