Whee, almost all the hand sewing is done, other than the rolled hem on the bodice skirting. I've already machine sewn the hem of the full length skirt. Not yet cut out the skirt bodice, but I've got plans to do that tomorrow night.
Having a hint of tennis elbow returning on my right arm, sooo I'm only hand sewing for 5 mins at a time, max. Hopefully that stops a full on flare up. But gives me time to get through the rolled hem over the next couple of weeks. Yay for making everything else by machine!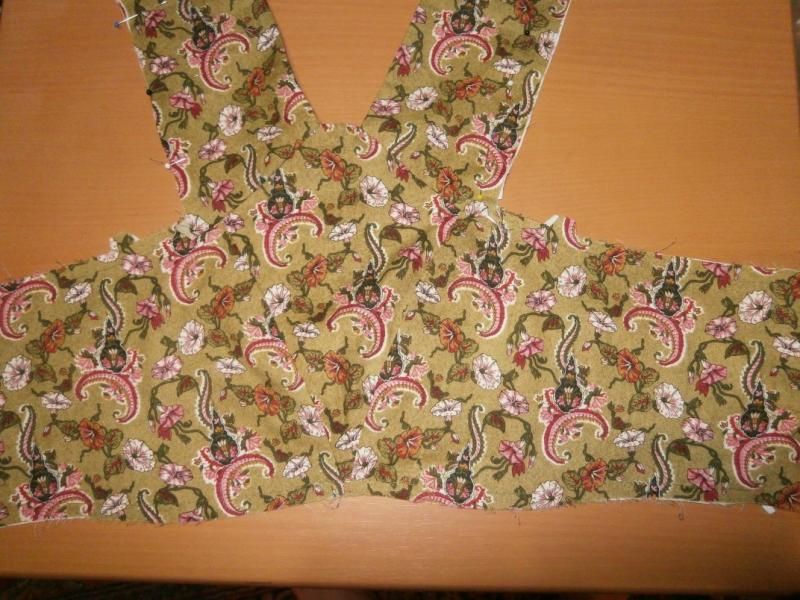 The fabric design is definitely one way only, and the shoulder straps will match the back but be upside down on the front. But they didn't care about that so much as effective use of fabric.
Soon I'll be inserting the sleeves ... easier now than when the skirt is attached. Depending on how long the sleeves are I'll be doing this, a double ruffle at the end of fashionably long sleeves ... (2012-08-25 Kent State - English printed cotton day dress, circa 1810)
Or a ruffle-cuff-ruffle as per a short gown in Costume in Detail and what could be on this dress in France (Les Arts Decoratifs, item Inv. 49-32 17.A.B ; c1818-20 cotton dress)
Fortunately having used this pattern before (though with the original length sleeves) I've already fixed any fit issues (unless it's too tight around the bodice!!)