I went to the sewing guild yesterday and had a busy time. I didn't need to take the 3rd skirt as I didn't get to even touch it.
I tackled the near doomed UFO skirt - it got to the point where I didn't care how well something was done, so long as it was done. Look at this zip insertion for example. Worst ever, but I just don't care! I attached the waistband today, and topstitched it as the interfacing started to lift. I don't care if it's sewn in and not fused. I started stitching in the ditch but halfway changed ... nobody is going to see it as I don't tuck in tops. See what I mean, what an attack of the "Just get it done" when usually I'd take the effort. But after 2 years and 7 weeks, pffft. Get it finished. The buttonhole is done, and I got this button from the stash - it's a lavender and almost perfect match to the periwinkle blue. This fabric just doesn't want to photograph properly.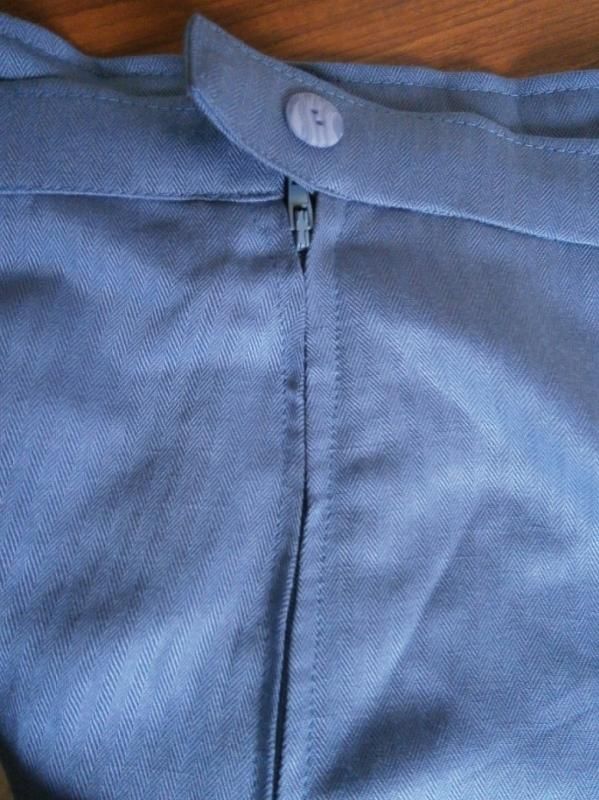 Next up, the purple skirt from the Burda WOF pattern. I think it might be a smidge too long, but I'm not going back unless I get laughed at when I wear it. I topstitched the panel seams, and put the zip on the RHS as I don't need to wrestle with a zip over the seamlines. The original pattern had an elastic waist so there wasn't this to think about (had I done that). However, with my waist & hip difference, I get too much fabric bunched in the shortness that is my body. blech.