Tonight I got the first curtain completed & it's already hanging up. I wish I had one more curtain hook, but they only came in packs of 14, which is so frustrating.
I'll finish the pair tomorrow morning, and I'll have one more look for the already cut sheers, as I'd love to have them in the photo too. I'm counting on the thermal+blackout lining being just the ticket as my bed is right next to the window and winter is coming. It's the cold air that upsets my lungs and triggers asthma. Not cold compared to other countries, but my lungs are drama queen over-reacters.
Next on the sewing table will be the half cut out skirt, as I'm really looking forward to wearing it. I need to make sure I have matching thread & zip - think I bought them 16 months ago - and suitable thread for my new overlocker.
Talking of which, a couple of weeks ago I got a brand new overlocker at Aldi, which I trecked out to get despite feeling less than the best. I made sure to check it was running before putting the packing in my store room (as they have a great return policy). I was happy to get it as most likely a rebadged Janome - that's who made their 2 previous machines. Happily for me, yes the service contact details are that of Janome, though it's not mentioned by name.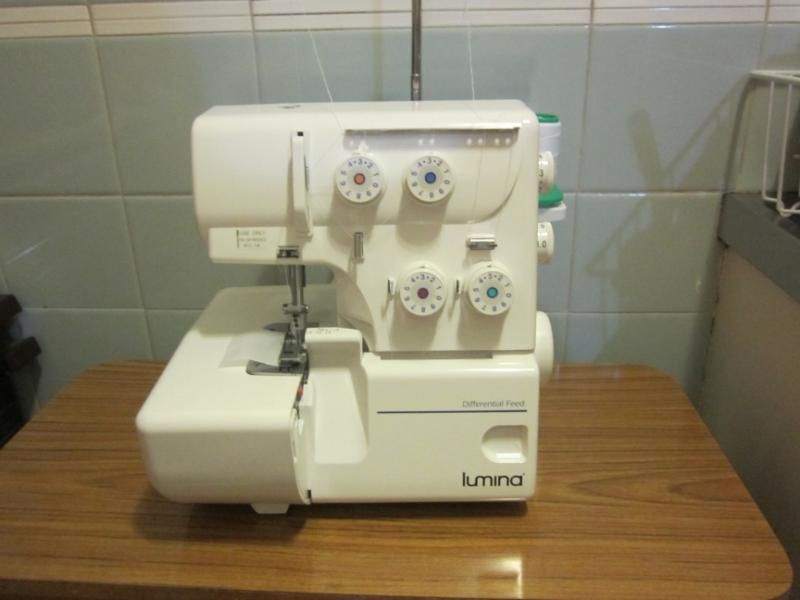 I'm still fond of my old babylock but it needed servicing again after not much use since the previous service only 15 months earlier. The cord was starting to fray at each end so it was going to need electrical work as well. Too much for such an old (1970s) machine. bye bye babylock [EA605?] you have served me well