Is your brain spinning around - cos mine certainly is!
My corsets are uncomfortably too small :( The 1880-90 is a small amount too small but it's brocade fashion garment and not suitable as underwear. With garments on the outside perhaps making wear patterns on the brocade. My c1903 is that bit smaller again, and the larger gap at centre back moves the side back steels to the wrong spot on me and so they're trying to twist rather than not even being noticable. Too rapid a curve in & out for flats.
So, I need to make a quick & dirty corset, or I'm dooooomed. I raided my corset patterns & supplies. I was going to make Ageless 1288
as I love the design lines of it, and its in my stash.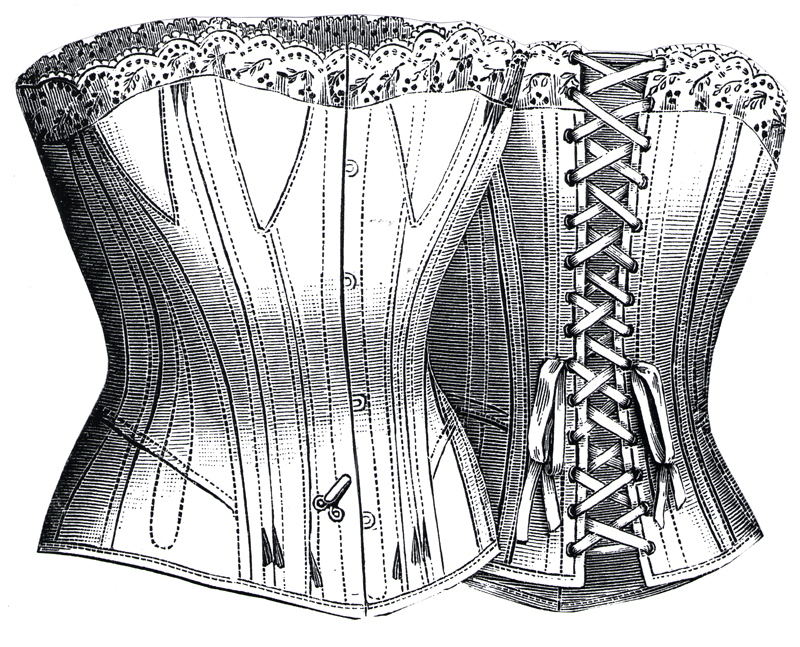 I traced it off, adding to each panel to get it to my new stouter measurements. And thought, hmmmm this is going to take too much altering. The waist to top edge is too long to fit my shortwaistedness, and the waist too hip edge too short for my preference. Too much futzing around for a timecrunch. So I spent the last of that evening and a day at work with my brain flip-flopping between slightly enlarging (simple) the panel corset or taking a little more effort and the
Truly Victorian edwardian corset
. I love the back shape on both, but the TVe slightly wins the race cos I like the front of it that little bit more.
Here's a poor quality photo of me in the black corset I made with it in 2012.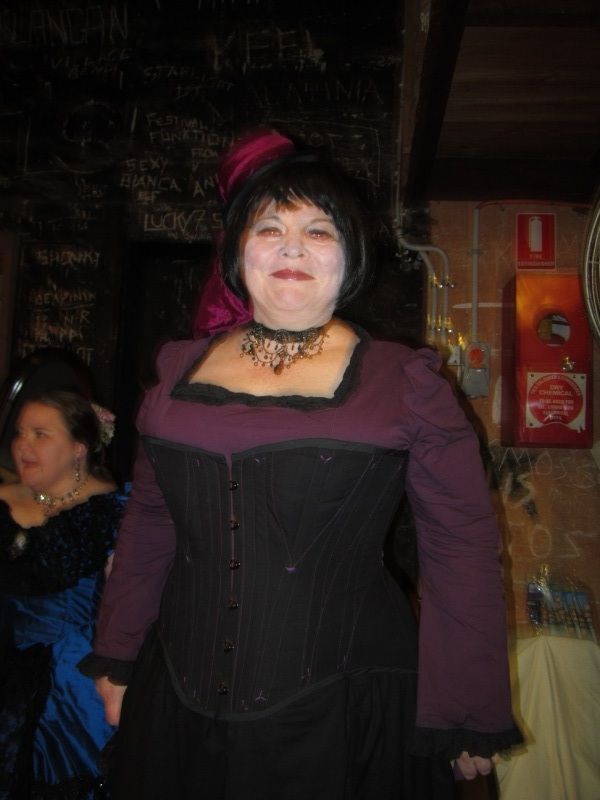 So I decided that I'd leap to the side of the edwardian, so long as I made a couple of changes. So after work I managed to get the pattern pieces photocopied onto larger paper and just cut out the size i want to use.
The changes are to make the lower back 1 size larger than the rest of the corset (the waist squish has to move somewhere) and, and instead of cutting the top edge down 1" (as I'm short-waisted) that I'd more properly take that 1" from between waist & bust. I takes a whisker longer but provides the correct width at upper edge.
Lastly, most importantly, raise the point at which the bust gusset is inserted by 3cm. It meant reshaping the Centre Front & Middle Front pieces.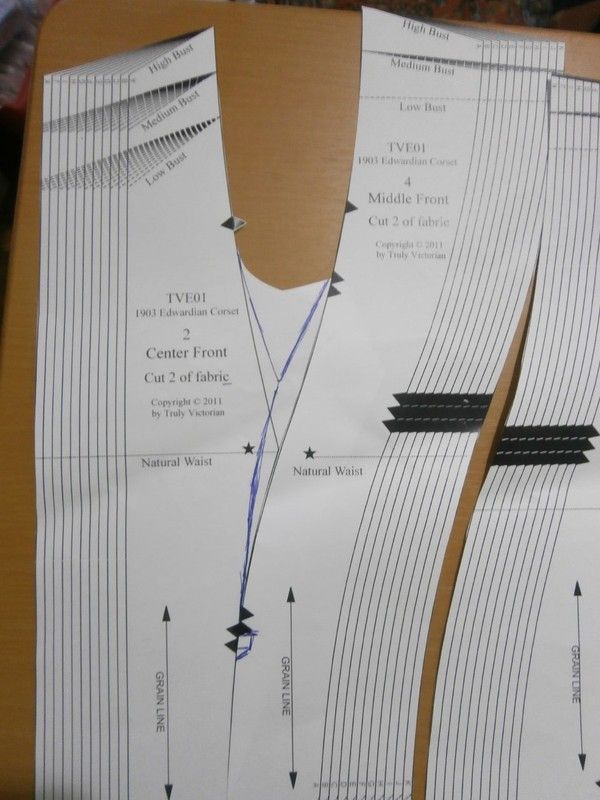 Which also meant changing the bottom half of the bust gusset the most - I got lazy and will infill the lower section as I cut.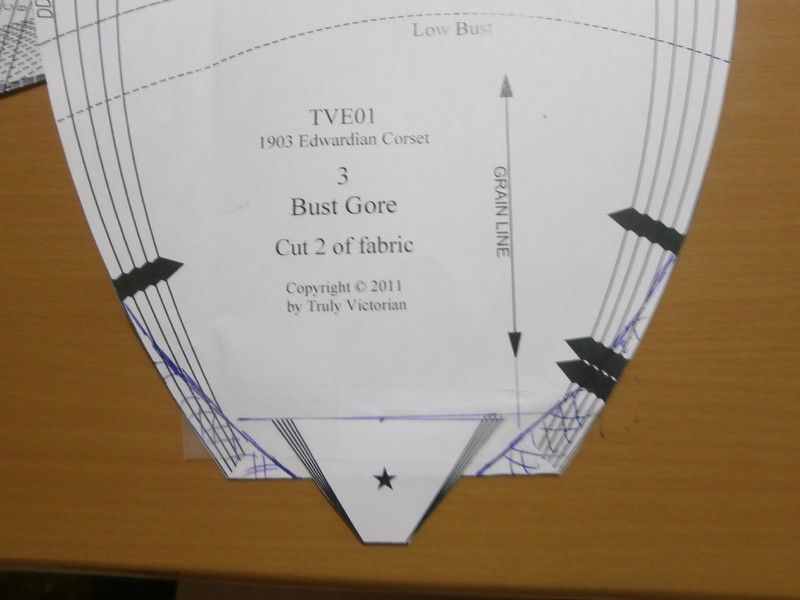 Because I also had to take 1" from the top half of the gusset, I took that from two half inc slices and it now looks like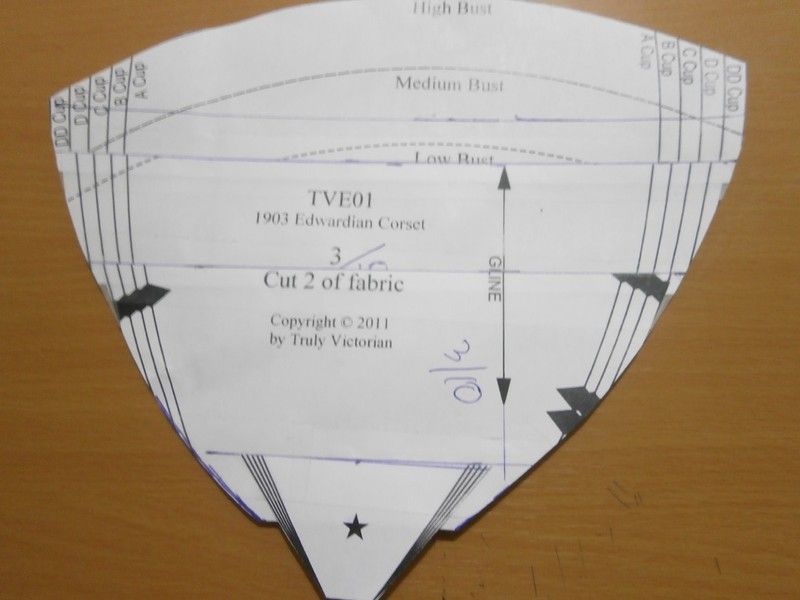 Now I'm about to cut it out from white coutil. Yayy for stashbusting as I have the coutil, a choice of 3 busks and assorted steels. I also have a roll of 6mm spiral steel somewhere. I likely put fabric on top of it, so need to find it before I can finish. Unless I buy some precuts at
Metro Fabrics
next Wednesday.