Lobster-tail bustle cage that is. (If you're not sure what garment I'm talking about, here's one in the
collection of the Metropolitan Museum of Art
)
I got it cut out & started sewing it yesterday, using the
Laughing Moon pattern #112
view D. I can't resist being economical with fabric even when I don't have to - got it out in 1.5m of 112cm (45") wide fabric. I made some changes to the construction. I flat felled the cage seams - no manky fraying inside my underpinnings. Plus the top 2 & 3 steels now cross each other, mainly cos the extant ones I've coveted seem to have that and I want it.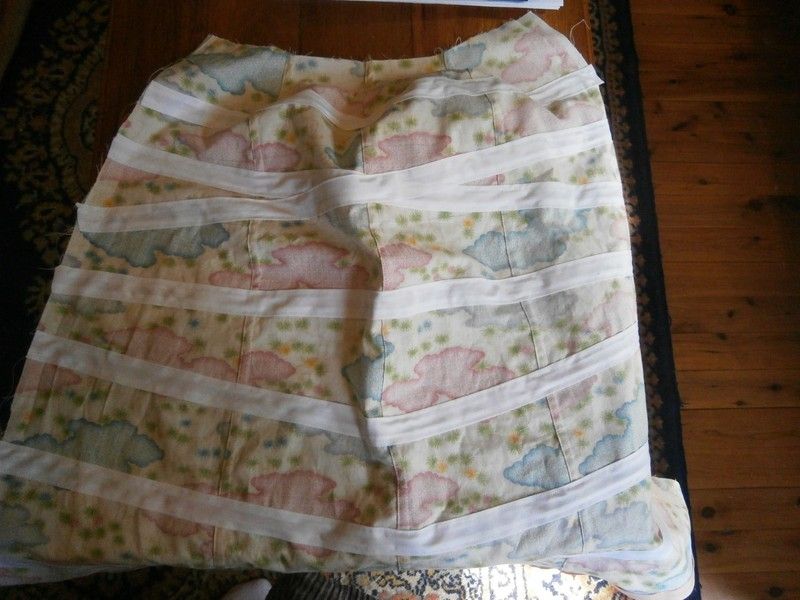 Also I will have the bottom inside panel button closed, not lace up. Second lastly (maybe) the seam joining the cage & front drape will all be on the inside of the cage, and bound with bias tape. Maybe last change, the edge of the front drape will also have bias binding around it - the pattern instructions are to turn the edge under 1.5cm and stitch it down - despite the fact that it's only 0.5cm longer than the seam it abuts and that you've.just.already.sewn.it.to!!! WHAT!
Oh, not my last change, I'm not leaving a gap in bottom of the channels to insert the steels, but popping them in the seam that I'll then stitch close. Easier!
Probably my last change is to add a pleat to the the lower edge, stitching it just above the lowest steel. But I haven't cut and pleated athat yet. I'd have got the steels in already but I didn't take them for my stay in the mountains (keeping a friend company after a breakup).
Here's some flowers at her local train station.