Though it seemed like they were after the plus-size drought of the 80s. One of the patterns in my previous post has a 52" bust, and one of the reasons I've procrastinated so badly is that I'll need to (1) copy it onto new paper and then (2)grade it down to my size and lastly (3) alter it to fit.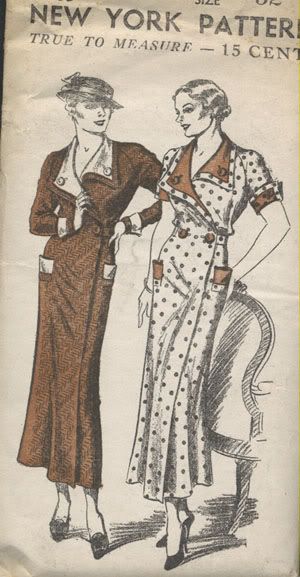 I've a habit of procrastinating cos I want something to be perfect, and once it's done there's a good chance it won't be. Even if the imperfections are only in the eye of myself!
I've come across other equally large vintage patterns, usually one of the mail order brands such as this
Anne Adams1960s evening dress
currently on eBay. Which I think is quite wearable now, depending on fabric choice and skirt length. And another
52" bust Marian Martin dress
and "blouse".
I sometimes wonder if one of the reasons I thought I was so fat when I was in my late teens/early 20s is that most fashion patterns pretty much stopped at 36" bust. I was that as a teenager and then went up 38" until I was about 22/23 when I managed to lose enough pounds to be 36-24-37. Not only was I just above pattern sizes but I was an extreme 8 shape. Tiny waist but D bust and high hips. Trending more an 8 than an X if that makes sense. At a time when an androgenous shape was the fashionable one. No wonder I felt like a heifer, the fashions just didn't suit me.
Of course, I got sick and my weight bolted - so it seemed. Though it's more that the PCOS & other endocrine disorder kicked in hard, most likely cos I was so unwell. I think that whole process of believing I was very plus when I wasn't is one reason I have little shame about being plus size now.
Enough introspection, the original point of my post is to say that thanks to the internet I now have access to a whole range of plus size vintage patterns, not only in my size but beyond it.