I've been sick for a week - asthmatic-bronchitis which is an old nemesis. I haven't had it for a few years now but it's progress is familiar. I'm not coughing much in the night so it's not a hideous bout of it. Just tedious dull.
I'm not up to reading much cos it takes too much focus so I've been watching tv catching up on DVDs that are borrowed from the library and friends. Austenland was more fun than I expected. Though terribly cliched. I've some box sets - the first 3 seasons of Damages, the last season of Torchwood and all of Six Feet Under.
One thing I did today, so I have the resemblance of virtue. I had ordered a bundle of organdy bags to help sort out tights for costumes and they were in my mailbox on Thursday. I'm a visual person, so the sheer packing was a random idea cos this way I can see what's in them without getting the air pockets that come with mini (or other size) ziplock bags. I guessed the size cos I ordered them the minute I thought of it.
Anyway as I was ratting through my container of computer cables for my Kobo, camera etc it occurred to me that the organdy gift bags would be useful here too. I can see what's in each bag without opening it. They're not tangling each other, and although yes I have to take a few out to find the right one, at least I don't have to take out a tangle and do a similar hunt.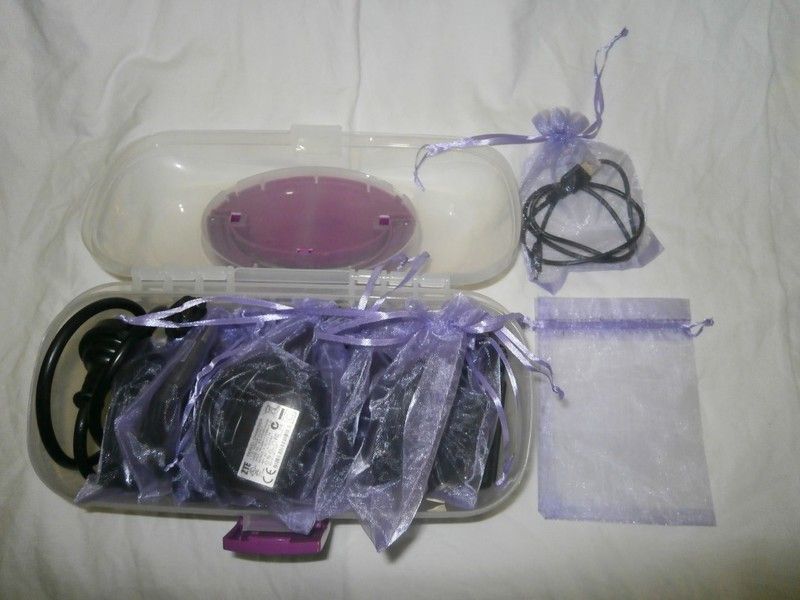 A small thing, but I'm happy with it.