I was a whisker away from finishing this back in March and posting in time. But I put it aside to finish my Mrs Whitlow 1917ish dress. The last thing left to do back then was add the waistband of grosgrain ribbon and take a photo.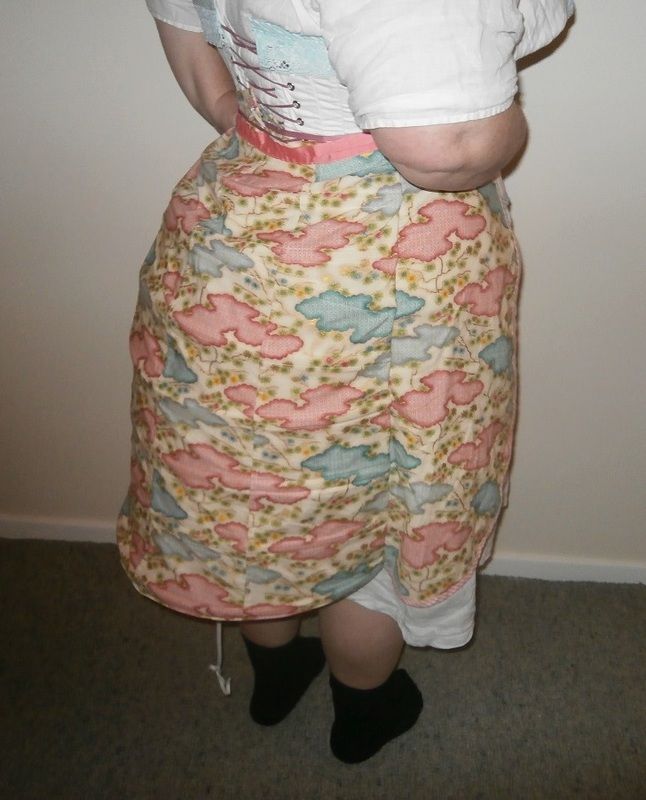 I didn't iron it after taking it out of the suitcase so I'm happy with it. The only thing I may or may not do is add a boxpleat ruffle to the bottom of the cage.
The Challenge:
March 2015 Stashbusting - Make something using only fabric, patterns, trims & notions that you already have in stash.
Fabric:
from a 7metre bolt end of quilters cotton, purchased about 8 years ago on sale.
Pattern:
Laughing Moon #112 View D - bustle cage
Year:
1883-9
Notions:
thread from stash, bias binding from stash, german nylon boning from stash, buttons and grommets from stash. The only thing I bought was grosgrain ribbon for the waistband because I really felt it needed to match the fabric.
How historically accurate is it?
probably 95%, the waistband ribbon andnylon boning are the only non-period aspects.
Hours to complete:
7-8 hours as a guestimate.
First worn:
Saturday 11 July
Total cost:
$2 for ribbon, everything else had been stashed for a minimum of a year