I'm thinking of it as the cheater version, cos it's for a party where 95% of the people wouldn't have a clue about screen accuracy.
The skirt will be near enough, and the jacket is the bodgy part. The striped corduroy arrived from FFC and it's a stretch woven. An abomination in my eyes! But it's for a half in- & half out-door venue and I don't have to care if I spill party food on it. Which is a winner!
It does mean that I can't accurately test the pattern that I'm mocking up, even though I'm flat-lining it with non-stretch. As far as the sleeves go I'm not lining those suckers.
I'm cutting out the jacket at lunchtime today, after I mish-mashed the scaled up to 100% NSCT 1793 pattern with the archery jacket pattern via my 1780s polonaise. I really am leaving it to the last minute along with flying by the seat of my pants. Though I've fitted 2 out of 3 of these patterns already.
Yes, I dithered and finally got the patterning done last night - went to bed really early 2 nights in a row (Tues/Wed)and got 10 hours sleep each night - so I must have needed it. But that was my pattern work & mock up time.
I scaled up the NSCT pattern to 100% and she has approx 31" waist and 38" bust. Which I dont. So I got the pattern
Desir Brulant
lent me for our georgian archery costume, and I bodgied up a frankenpattern based on it.
Here's part of the back. I stuck the back & side back together along the seamlines. Mostly, I ignored that they didn't meet in the middle as this added not subtracted a smidge). Then drafted a CB piece based on the NSCT but 1" wider, with the pleated hem and then copied the rest of the pattern, guestimating & eyeballing below the waist - based on the NSCT pattern.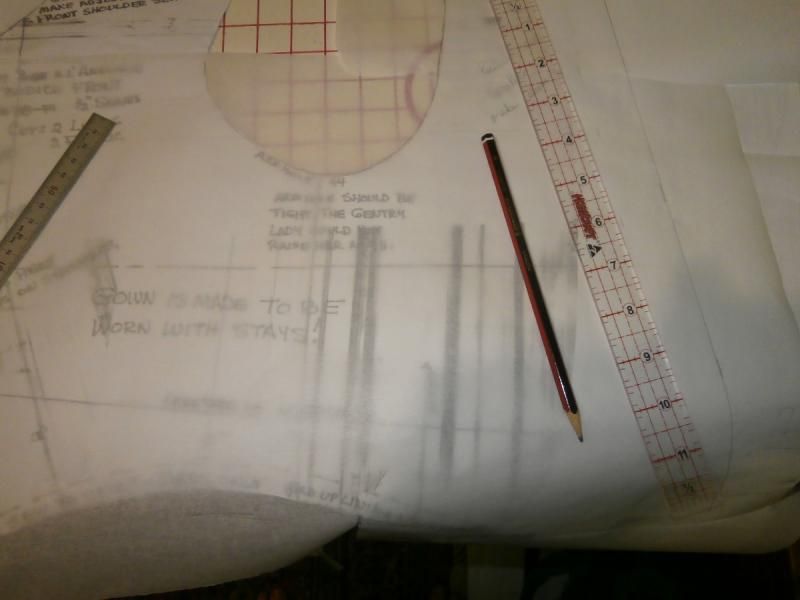 The top edge needed to be a bit higher for modesty - as "the girls" were so on display with the archer that its hilariously bad. Giant
norks
are over-rated. I also straightened out some of the shoulder strap edges - after matching the short section to the front on the seamline.
And cos this is a quick & dirty costume, not a screen accurate one (LOL the thought with the effort I'm putting in for this party) I'm going to stitch down the fringed yarn I have. Forget seperate piecing for the front.
quick.dirty.effective. (Hoping the last one is right).
And if you're wondering what I'm making, a friend is throwing a Tim Burton themed party, and I'm making this
http://costumersguide.com/sleepy1.shtml
.
I was hoping to find a cheap sheer table runner to use as an apron but will be skipping it at this point - no such luck. I must have missed that fashion trend. I've got the blonde wig I bought for Lamia a few years ago, and even though I'm not happy with it that's ok. It won't stay on all night the way it would at
Supanova
etc