As I haven't had the oomph to sew yet, I've been doing a little scheming for when I can. I've fossicked in the stash for something suitable, or near enough for the 1920s
Decades of Style
#2601 negligee.
I found this cotton lawn, which I wasn't sure was right for the pattern and started looking at fabrics online.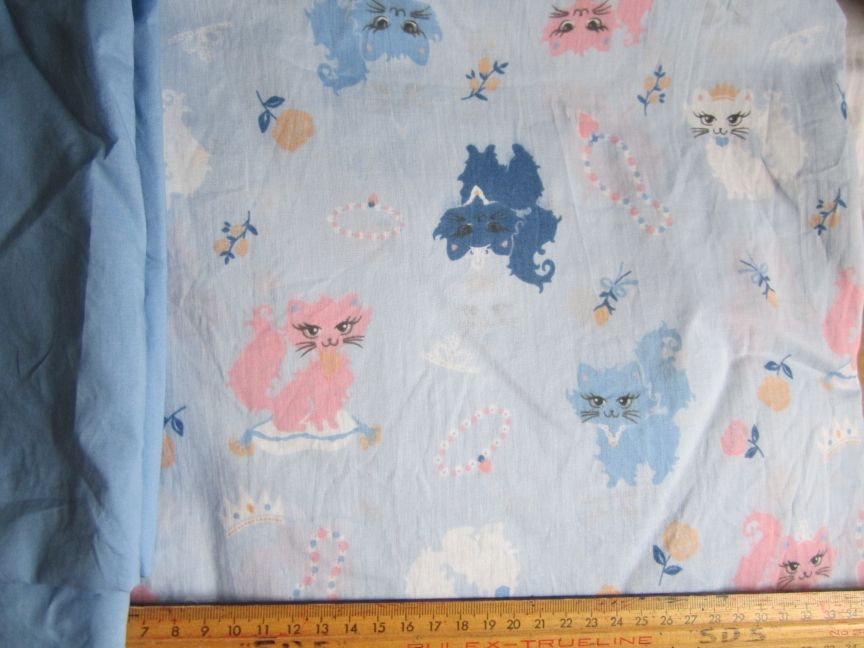 And I had to give myself a good talking to about shopping the stash first, and then going back and either shopping the stash second or changing the pattern so that I can indeed use up the 100s of metres of fabric I already have.
There isn't enough of the plain blue, but there is of the kitty cotton lawn I got a few years ago in a moving sale. I plan to make a design change on the neckline, such as a plain blue appliqued facing with a V- or maybe a russian-inspired opening. Something like Simplicity 1189 - not owned by me however.
I've also come up with a cunning plan to edge the sides of the DoS negligee. The original is hem stitched and slashed between to give a picot edge to the drapey bit. ugh, am so not handsewing if at all possible.
My first alternate solution was to make narrow bias from the plain blue cotton ... and whine the whole time to anyone and everyone. Instead I now have the brighter idea of getting narrow china silk ribbon and binding the edges with that. It'll highlight the drape, and it's all straight lines so I can get away with ribbon. Come payday this week I'll order it online.