I headed off to the sewing retreat on Friday, still with lots of nausea thanks to an adverse reaction to medication. I'd been exposed to whooping cough and 3 days later come down with sore throat+swollen glands+sneezing so was put on antibiotics as a precaution while waiting for the test results - thankfully negative.
We got to Stanwell Tops about 3.30-4pm, and were able to start setting up straight away. After dinner I started working on my black skirt, only to realise I hadn't marked the wrong side on the back piece and stalled when it got matching front to back. The front is asymmetric so was easy to work out. I switched to making a dressing gown for a friend
and then went to bed early *AGAIN*. 3rd night in a row. Silly body.

Saturday morning I switched back to sewing my skirt and finished it. Only to find my fabric was a poor match for the pattern and it looks fugly as. I know it's the fabric cos it's my fave Decades of Style pattern that I've used multiple times. In linen/rayon herringbone it drapes beautifully, ditto wool crepe, and even a soft wool twill. This linen/cotton twill ended up that bit too stiff and my right side seam is clumpy and lumpy and not fixable. It fits, so it's not a fit issue. GRRRR I'll repurpose the fabric for something else. Either a corset outer layer, or a bag for packing shoes, or *something*. There was half an hour left til lunch was served so I filled it with a mix of sitting+vegetating and showing someone who's not getting dart ends sitting right how I finish the ends of my much bigger darts so that they are subtle not pointy.

I was also feeling sore-throat and swollen glands again, 3rd weekend in a row. So I plodded along sewing the dressing gown stopping for wine and cheese and nibbles at 5pm. After dinner I returned to the fleecy snuggle gown and got all but the belt sewn before turning in to bed. My friend Jess is about 31cm taller than me (12.5") and I cut the body 30cm longer than the pattern, and there wasn't a whisker of zebra fabric left to make it any longer - so I hope it's long enough.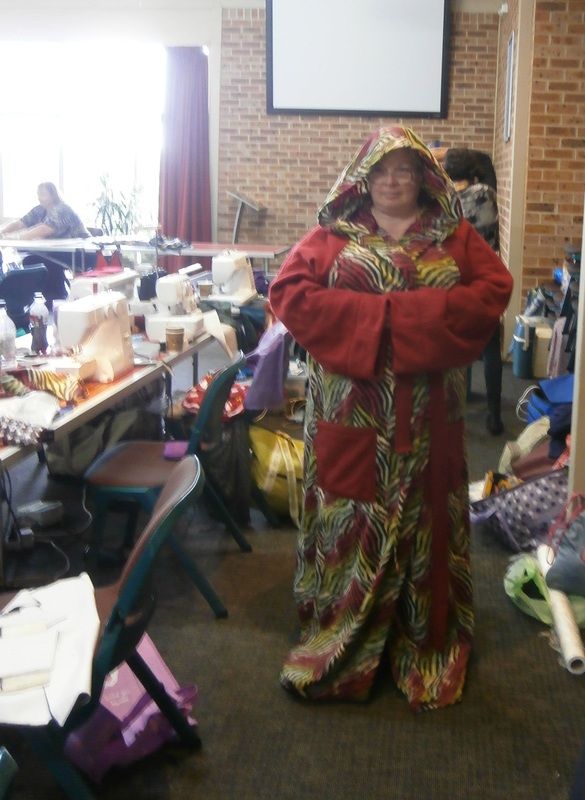 This is it on Sunday when the belt was made - the pockets might be too low, but I had to guess placement and it is what it is :).

I didn't get much more that the belt done on Sunday. I felt even worse - slept through my alarm and only got breakfast cos my roomies came back after theirs and woke me up. Another person gave me a lemsip which helped me feel a little better, but I was zombie stage 1 all day, and a polar fleece tie belt is about all I was fit to sew. I cut out a Hello Kittie flannelette nightie but didn't have any red thread with me to sew it. Politely declined the offer of thread as I knew I'd make a huge booboo. Then I started sticking a PDF pattern together - a fitted knit T so not an awfully painful number of pages.

Still have swollen glands and feel rubbish. blergh!!!!! Like the side seams on the dressing gown "will this never end"